The Jewish Chamber of Commerce: Where Business Meets Philanthropy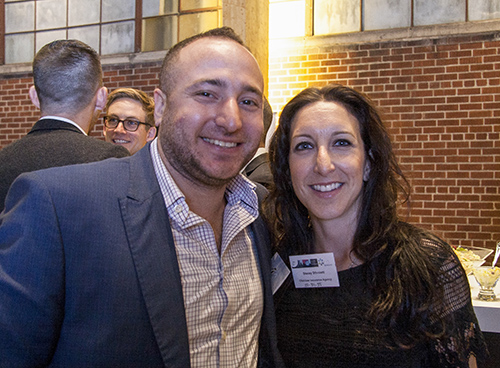 Ian Weinstein with YAD Outreach Co-Chair, Stacey Stivaletti, at The Art of the Schmooze event.
By Ian Weinstein, Senior Associate - Valuation, Litigation and Transaction Advisory at Richter
Co-Chairing the JCC event The Art of the Schmooze was an incredible opportunity that allowed me to experience first-hand the JCC's mission to be "a Jewish networking forum for business individuals of all industries and professions to exchange ideas, knowledge and insight while working to enhance the development of strong Jewish community leaders." While working with the JCC staff, members of the JCC executive committee and three extremely competent Co-Chairs, we exchanged ideas and created a new event format that will hopefully be followed for years to come. Together, we saw the benefits for the whole community of listening to each other and being team players.
It is an amazing feeling to know that our efforts contributed to raising funds that will be used by Federation CJA to benefit those in need. It is also empowering to know that the JCC (through Federation CJA) has provided me with an opportunity to help impact so many Jewish lives.
I look forward to becoming even more involved with the JCC and Federation CJA in the future!
S
M
T
W
T
F
S

1

2

3

4

5

6

7

8

9

10

11

12

13

14

15

16

17

18

19

20

21

22

23

24

25

26

27

28

29

30